Rakuten Mobile is committing itself to an improved customer experience through what it has termed the Zero Declaration.
The Zero Declaration makes a number of services free to customers such as SIM exchange and re-issue, contract sign-up (with no contract cancellation fees) and mobile number portability (MNP). Rakuten Mobile says the aim of the Declaration is to create a mobile market where customers can freely choose the carrier service that suits their needs.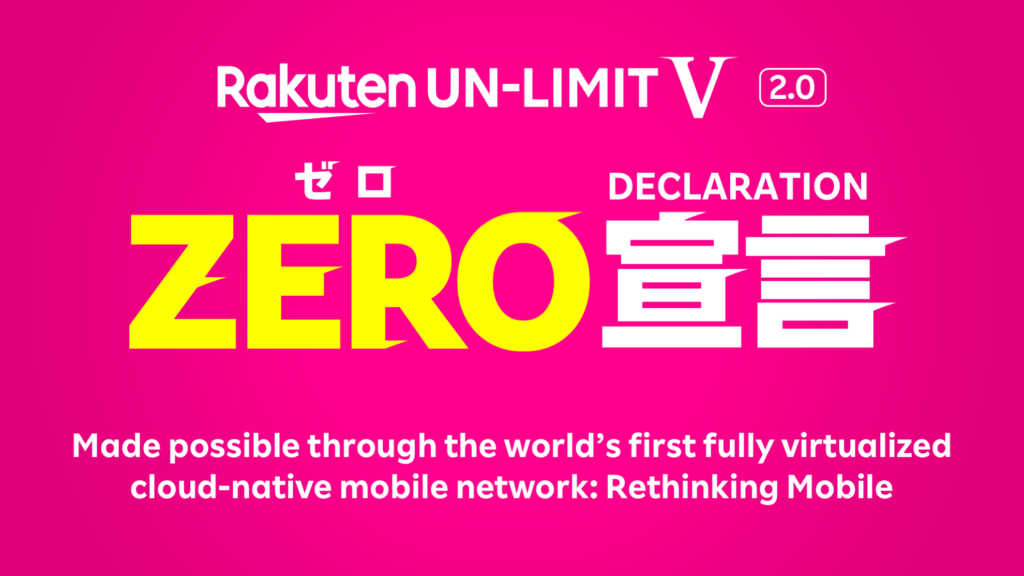 To date, Rakuten's zero-rated services and promotions include:
First year of service (2,980 yen/month) for 0 yen – limited to one contract and one application per customer for the first 3 million customers. Charges do apply for products purchased, option fees, call fees and other fees.
Domestic calls with Rakuten Link app for 0 yen
Contract cancellation fee – 0 yen
5G service fee – 0 yen
SIM exchange fee – 0 yen
SIM re-issuing fee – 0 yen
MNP transfer fee – 0 yen
Contract sign-up fee – 0 yen
According to Rakuten these initiatives are possible because it has dramatically lowered its cost base thanks to its cloud-native approach to network build.
Rakuten UN-LIMIT V 2.0
An example of its mission to simplify the customer experience is the Un-Limit V 2.0 plan, launched 30 September 2020. The plan offers unlimited data, complimentary 5G service where this is available, unlimited domestic calls and messages, and unlimited calls and messages from overseas to Japan when using the Rakuten Link app for a monthly fee of 2,980 yen (£22/$28). Rakuten says its aim is to offer a single service plan without complex terms and conditions that is simple, intuitive and easy-to-use.
Rakuten Mobile is also offering up to 28,000 Rakuten Points to new customers that sign up between 4 November and 1 December 2020. New customers will receive 8,000 Rakuten Points for a SIM contract and up to 20,000 Rakuten Points when they purchase a smart phone.
Rakuten introduces eKYC for online ID verification
To create an easier and fully digital onboarding process, Rakuten Mobile is also introducing the AI Kantan Honnin Kakunin (AI Easy ID Verification) eKYC (electronic Know Your Customer) service, which will be rolled out from 9 November 2020. The service is based on ID verification technology supplied by NEC Corporation.
Rakuten Mobile claims it's the first mobile network operator (MNO) in Japan to provide an eKYC system for mobile carrier service contracts. Previously, its customers needed to upload the required identification documents in advance before the product was delivered to the address included in the documents. Alternatively, the customer had to show the identification documents at the time of delivery.
With the new eKYC service, customers can easily verify their identity and complete their contract entirely online. When combined with an eSIM, and eSIM-compatible device, customers can immediately start using mobile services as soon as they complete their application, without the need to wait for a physical SIM to be delivered.
The eKYC service will be available through the My Rakuten Mobile app (Android), from 9 November 2020 and through the My Rakuten Mobile iOS app from 30 November 2020. The company plans to expand the service to contracts made through its website, and will also add an IC chip reader function so it can accept applications made with My Number Cards. The IC chip reader function is intended to reduce upload time and improve security by preventing the use of falsified documents. 
How AI Kantan Honnin Kakunin works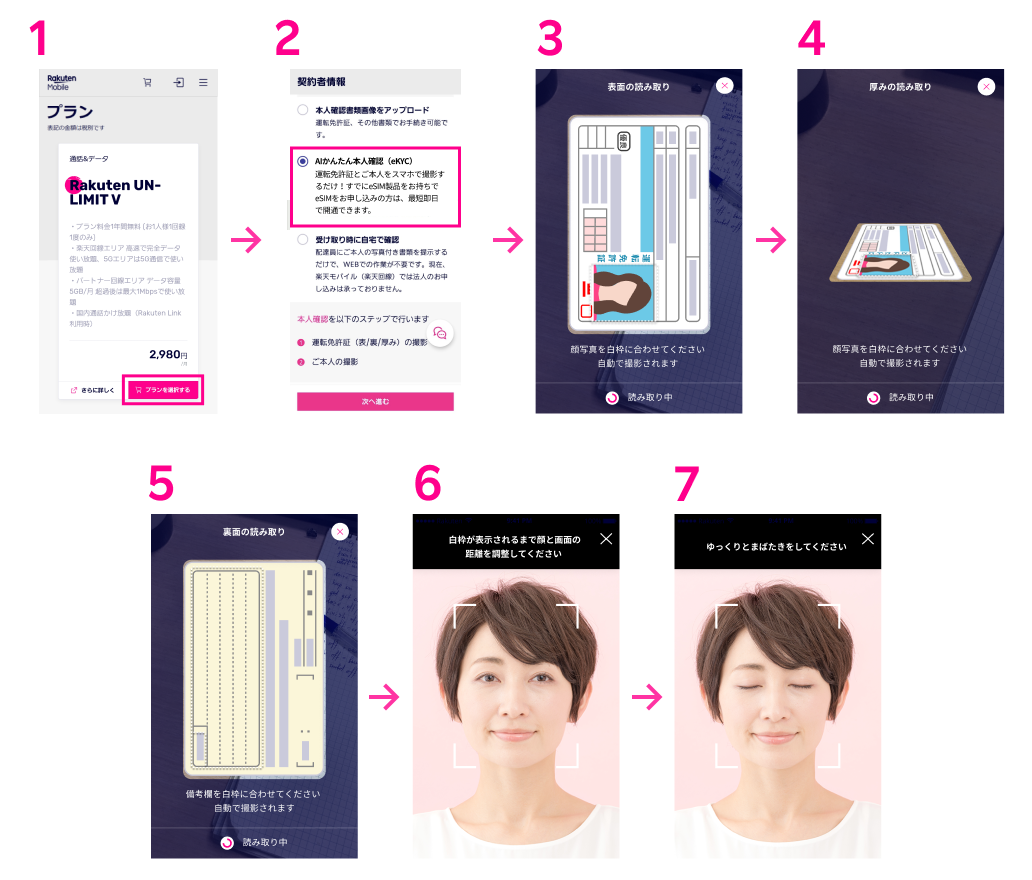 The customer applies for a Rakuten Mobile contract through the My Rakuten Mobile app.
Next, they select 'Take a picture of your driver's licence' on the ID verification screen and following the instructions in the app take a photo of the front of their driver's licence.
The customer then takes a photo of their driver's licence while tilting it to verify the thickness of the licence, as well as a photo of the back of their driver's licence.
The next step is to take a picture of their face in a well-lit place.
Following the instructions in the app, the customer blinks slowly. This completes the identity verification process.