NTT DoCoMo and NEC are working to jointly develop RAN Intelligent Controllers (RIC) for advanced operation of Open RAN. AI-driven RIC is an integral component of NEC subsidiary Netcracker's RAN Domain Orchestration Solution, part of Netcracker Digital OSS.
NEC has been working with DoCoMo since 2018 to verify and test Open RAN technologies. In June 2020 the two companies formed an alliance to develop and sell new 5G products, which includes RIC.
The partners say that AI-enabled RIC allows more sophisticated and efficient control of networks. This includes automation of base station settings and the reduction of power consumption through automatic optimisation of radio resources. They believe improved control of network characteristics – such as ultra high-speed, higher capacity, ultra low-latency, high reliability and multiple simultaneous connections – is key to creating and monetising new 5G value-adding services.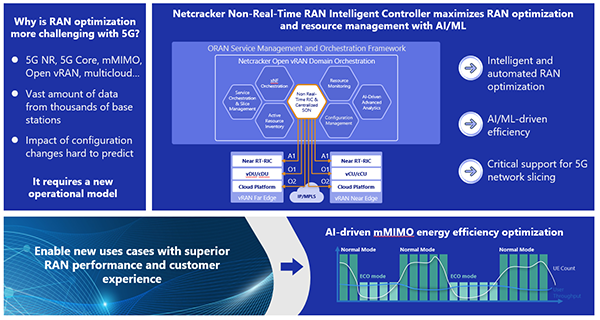 Netcracker's Digital OSS solution is aligned to the O-RAN Alliance Service Management and Orchestration framework, and brings together the orchestration, real-time OSS, and advanced analytics required to fully automate RAN domain operations. This encompasses planning and design, activation, monitoring and optimisation.